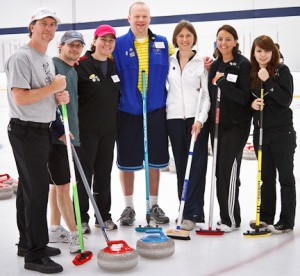 We are a not-for-profit club that is dedicated to fostering the sport of curling in San Diego.
Membership has privileges and supports the efforts of the club.
2017-2018 Member Benefits
* Run for and vote on club leadership. Also vote on all other issues presented to the membership.
* Exclusive access to league play.  You must be a member of Curl San Diego to participate in our main Fall league.
You do not need to be a member to participate in our smaller leagues, pick-up games and learn-to-curl events.
* Advance, priority sign-up for special events offered by the club.
* Automatic membership in USA Curling (United States Curling Association, formally known as USCA) and MoPac (Mountain Pacific Curling Association), which provides the following benefits: Eligibility to play in regional and national playdowns that lead to national championships and Olympic trials.  1-year subscription to The U.S. Curling News, a monthly newspaper produced by USA Curling.
* Special price consideration with the following curling equipment suppliers:
Dakota Curling Supplies (call 1-800-256-0009 for details)
Shot Rock Curling Supplies (call 1-888-574-6876 for details)
Steve's Curling Supplies (call 1-800-227-2875 for details)
Types of Memberships:
Individual — Full membership benefits as described above — $50
Other Club — For curlers who consider another curling club their primary club but would also like to support Curl San Diego. "Other club" membership provides the benefits of a name tag and priority event sign-up.  A subscription to The U.S. Curling News is not included. — $20
Membership is annual and valid from August 1st 2017 to July 31th 2018.  This is set to match the USA Curling and MoPac membership periods.
Sku

member2017-2018

Description

2017-2018 Annual Membership

Product Options

| # | Option | Price | Weight | Stock |
| --- | --- | --- | --- | --- |
| 1 | Individual Membership | $50.00 | 0.00 lbs | 98 |
| 2 | Other Club Membership | $20.00 | 0.00 lbs | 99 |