Welcome to Curling in San Diego!
Yes, believe it or not, the Winter Olympic sport of curling is actively played in San Diego. With multiple leagues throughout the year, learn to curl clinics, and pick-up games, you too can escape from the eternally pleasant San Diego weather into a chilly ice rink to throw large rocks and sweep like a madman!
Curl San Diego is open to all people who are interested in the sport of curling. Our objectives are to promote and support curling in San Diego, to establish and maintain regular play, and to have a lot of fun at all times.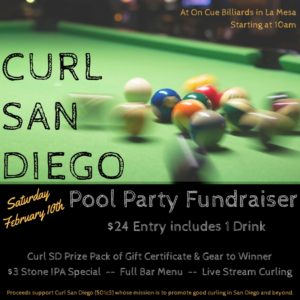 T-Shirt Fundraiser
The Curlifornia Republic t-shirts are back! Did you miss out on our first fundraiser? Well, now is your chance to get one. Available in men's, women's and youth sizes. All proceeds support Curl San Diego. Sale ends Feb. 19, 2018 at 9pm PST. Orders delivered to your home approximately 2 weeks after close date. Curl San Diego members can save on shipping by picking up their order at an upcoming curling night. Click here to view the fundraiser at CustomInk.

Events
We normally curl on Saturday nights starting around 9:00 pm at IceTown Carlsbad. Check out our calendar for specific dates and times of upcoming Learn to Curl clinics, pick up games , and leagues. Next Learn to Curl sessions start in March, and spring league begins in April.