Welcome to Curling in San Diego!
Yes, believe it or not, the Winter Olympic sport of curling is actively played in San Diego. With multiple leagues throughout the year, learn to curl clinics, and pick-up games, you too can escape from the eternally pleasant San Diego weather into a chilly ice rink to throw large rocks and sweep like a madman!
Curl San Diego is open to all people who are interested in the sport of curling. Our objectives are to promote and support curling in San Diego, to establish and maintain regular play, and to have a lot of fun at all times.
Thank you all for your support of Curl San Diego and our new Curlifornia Republic tees!
**No days left to order!** Our Curlifornia Republic fundraiser has closed. A huge thank you to all those who help make this a success! Your support and generosity helped Curl San Diego to raise almost $1,000. Those funds will help us to have a successful Olympic season and get ready for our Spring League (more details coming!).
Shirts will be delivered in about 2 weeks. We will email Curl San Diego members who selected the pick options when shirts are ready for pick up. The sale may have closed on this one but not to worry… We'll have another version coming in a few months – stay tuned as we get closer to the Olympics.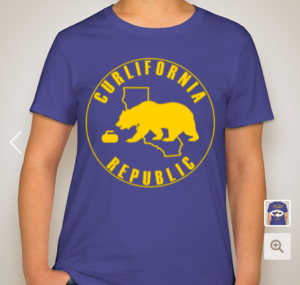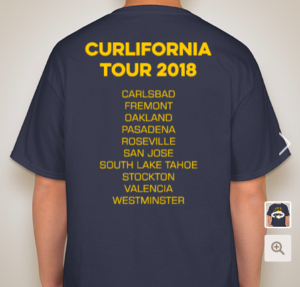 Events
We normally curl once a month on Saturday nights starting around 9:00pm at IceTown Carlsbad (check out our Events page for specific dates and times of upcoming Learn to Curls, pick up games (Curling Night in San Diego), and Leagues. 
Next Curling Night in San Diego – Saturday December 9th at 9:00pm! – Open to all curlers new and old!  A learn to curl class will be taught at the same time.  Check the registration page for more details.