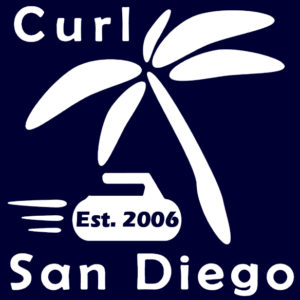 Welcome to Curling in San Diego!
Yes, believe it or not, the Winter Olympic sport of curling is actively played in San Diego. With multiple leagues throughout the year, learn to curl clinics, and pick-up games, you too can escape from the eternally pleasant San Diego weather into a chilly ice rink to throw large rocks and sweep like a madman!
Curl San Diego is open to all people who are interested in the sport of curling. Our objectives are to promote and support curling in San Diego, to establish and maintain regular play, and to have a lot of fun at all times.
Note – Sub fees for any league can be paid here
Join Curl San Diego at the Del Mar Races and Free Weezer Concert on Sunday September 6th!
Del Mar is where the turf meets the surf and is one of the premier thoroughbred racing locations in the country.  Admission to Del Mar is $10 ($5 if you sign up for the free Diamond Card), seats will be about another $10 dollars.  However we don't need to purchase advanced tickets so you can join in at the last minute to. Please Contact Pat Colpoys at pjcfla2@hotmail.com if you are interested.  Come on out even if you only want to spend a few hours and not the entire day to.
Check below for New leagues, pickup games and Learn to Curls!  
The 2015 Curl San Diego Fall League is now open for registration!  This will be a 11 week 10 ten round robin starting on September 9th to November 18th.  Click Here for More information!
View the following article on tips for how increase your pace of play and get the most out your curling game! – Pace of Play
Corporate Team Building and Private Events
If you are interested in holding a corporate or private event, please contact us at curl@curlsandiego.org for more information.